The Ultimate Guitar Tricks Review Guide (2020)
Guitar Tricks Review
There was a time when learning guitar was a personal journey.
You probably sat on your bedroom floor banging out the same chords over and over again until you sounded something like your favorite rock band or guitarist.
Although there are some merits in learning this way, the amount of time and dedication required is probably too much in our busy worlds.
One solution that has been around for 15 years is Guitar Tricks.
Guitar tricks was launched in 2008 and currently has over 11,000 lessons and 700 songs to learn on the site.
The site offers online guitar tutorials and caters for all styles and levels of guitar players, from complete beginners to intermediate players to advanced guitarists.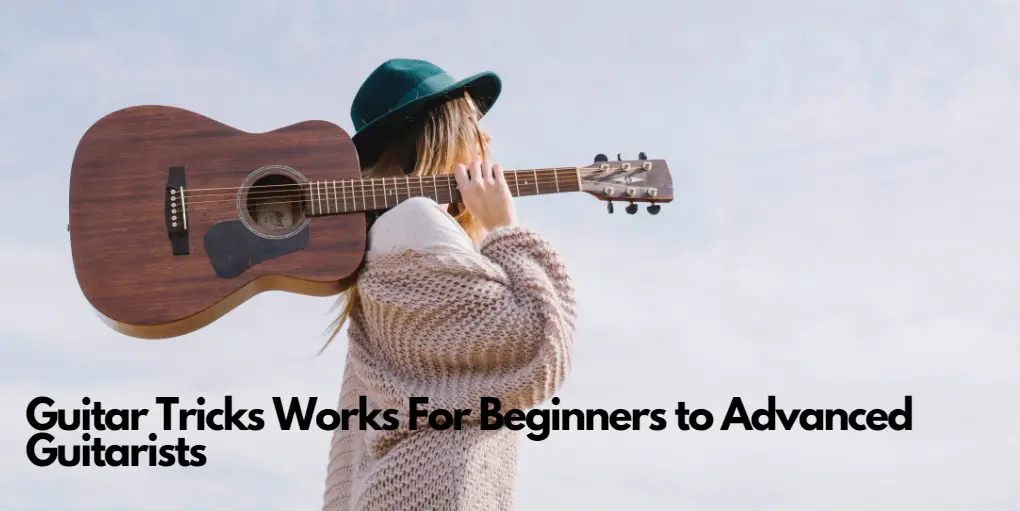 Is Learning Guitar Online Effective?
You may be thinking or have heard many comments at this stage that online learning is not an effective way to learn the guitar?
However, here are several reasons why guitar lessons online are more effective than having a physical teacher present.
Firstly, research has shown that students using an online learning format learn five times more material than traditional face to face. Online courses give you total control so you can learn when you want, at your pace, being able to take some areas slower than others.
Secondly, you are more likely to stick at an online course. Retention rates for online courses are 25-60% higher than traditional face to face teaching.
The third and quite important factor is time. Learning online allows you to structure your time to what works for you. You don't need to dedicate large chunks of time to learn you can set aside whatever time you can afford.
One other benefit of online learning is the continuous assessment it offers. There are regular opportunities to test your learning and being able to go back over the information you are not quite sure about.
Online lessons can also be structures to tailor individual need and skill levels.
In Guitar Tricks the lessons have been structured to help your skill level and are catered to the type of music you want to play.
The site uses professionally recorded video lessons so you can watch and learn at any time of the day. You can stop and come back to the same lesson, pause practice and come back. Whatever fits best for your needs!
The core teaching of the program is done by over 45 professional instructors who each have their own distinct teaching styles.
Guitar tricks have developed a series of step by step learning pathways that allow you to learn Rock, Blues, and Country.
The site also has a great toolbox at your disposal.
It has a tuner, chord finder, scale finder, and Metronome and something unique called a jam station.
The jam station lets you select backing tracks in a variety of styles, keys, and genres.
You can turn on a backing track and play along with it, it's like having your own band in the background.
Also, not only do you learn guitar you can also choose to learn guitar theory and musical theory. These can only enhance your playing styles and understanding of the guitar.
Whether you play acoustic or electric guitar, 6 or 12 string, no matter your age or favorite type of music there are lessons on guitar tricks to help you.
Guitar tricks allow you to progress at your own pace and to move on when you feel comfortable to do so.
Guitar Tricks Learning Format
The showpiece of the guitar learning platform is the high-quality video player that is used.
It is easy to adjust the player to suit, from 224P up to 4K giving you a crystal clear image of your instructor.
The video player also has a fully functioning A/B looping system. This allows you to stop and pause the video or review a specific portion of the video.
This is essential when learning, allowing you to go back over things continuously if required.
There is also a speed setting bar that allows you to adjust the playing speed of the video without affecting the pitch of the sound.
When learning an instrument like a guitar, it is essential to have close-ups of the fingers along with slow playing so you can see where your fingers are supposed to go.
Guitar tricks lets you do this making it easy to follow and learn.
Next to the video is the music sheet which scrolls automatically as you play through the video.
Under this are the lesson details and even the song lyrics.
The actual lessons themselves come in various lengths and are produced in a series of segments instead of one long video.
This is very helpful when learning a new song and allows you to skip around the lesson to parts you need more practice on.
So once you enter the site what can you expect from the various perspectives.
Guitar Tricks For Beginners
If you are a complete beginner, then Guitar tricks is a great platform to start to learn from.
The 'Beginners Section' is really easy to navigate too and appears as one of the four main categories on the home page.
The beginner's section starts with two introductory parts, Guitar Fundamentals 1 and Guitar Fundamentals 2.
Lisa McCormack introduces Guitar Fundamentals 1 and takes us through the basics from what guitar to buy, how to sit while playing to guitar models, how to tune and how a guitar works.
Lisa McCormack is a renowned country artist and comes at the beginner lessons from a standpoint that the student does not know anything.
She has had experience of teaching 100's of students in real time, and she strongly believes in experiential learning.
Once you have mastered Fundamentals 1, moving on to level 2 picks up where you left off in level 1.
Here she teaches you how to play chords and then moves onto to get into easy songs. She gets you to develop your style and play to play more melodies, more chords and timing, and rhythm.
It then scales up to teach power chords, scales and an introduction to reading music.
In this section is also 'Songs Made Easy.'
There is a large selection of songs ( over 140 ) of your favorite tracks that have been simplified so you can practice and develop them.
The songs have been stripped back to the basic chords so that any beginner can play along.
You also have the option to select the song dependant on difficulty, popularity, and style.
This is an excellent addition for the developing player.
One of the reasons why we learn guitar in the first place is that we all want to play the songs we love and build those songs into our guitar playing repertoire.
All the details are there from how to set your guitar up in the first place, including your amp, so you get the sound you want.
This section of the website will give you everything you need to get started with your guitar.
If you have never even picked up a guitar before, this section has everything you need to learn to play songs from day 1.
Guitar Tricks for Advanced Players
In this Guitar Tricks Review so far, we see it is a great program for beginner players. What about advanced guitar players who are looking to advance their playing ability?
The biggest problem that more intermediate players run into is finding convenient.
Guitar tricks actually can offer the more competent player quite a substantial amount.
Using the core learning system advanced players can explore the three different types of music rock, country, and blues.
There are two levels for the different styles.
Within the two levels, there is plenty to get your teeth into if you want to learn a new genre of musical style.
The lessons outline both the rhythm and lead playing techniques as well as learning to find the correct tone required dependent on the equipment you are using.
One of the real highlights for the more experienced player is the bank of songs available. The difficulty of each song is categorized by a small guitar scale.
One guitar for an absolute beginner working up to five guitars for advanced players.
Guitar Styles
Although the core learning system highlights blues, country, and rock styles, that is by no means the limit of the guitar styles you can learn.
Within the system there are in fact sections of the following guitar styles:

Acoustic
Blue Grass
Classical funk
Soul
Jazz
Metal
Rockabilly
Surf
World
These styles are listed throughout the site when browsing for songs.
You might have noticed that there are no Bass style lessons; this may be something that may come along in the future.
Related to the guitar styles is the ability to learn a particular style in the personal manner of one of the players of that style.
For example famous artists like Brian May, Van Halen, BB King.
There is everything on there to help you play like one of your guitar great hero's, even how to set up your guitar and amp like them.
The Songs Section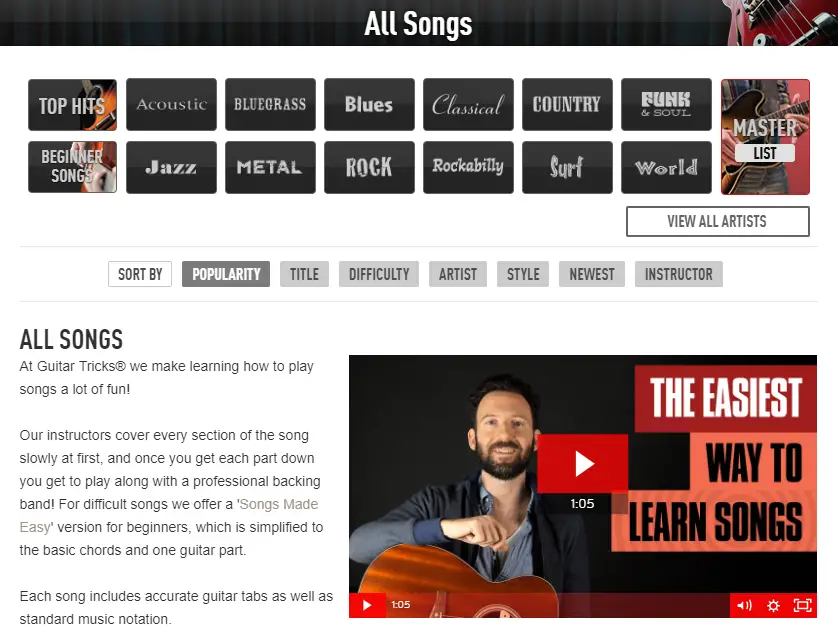 We have mentioned this a few times already in this Guitar Tricks review, but the song section is really a stand out feature of the Guitar Tricks site.
It has a massive selection of over 800 fully licensed songs for you to learn.
They are broken down as follows:
World – 6 plus
Acoustic – 120 plus
Surf – 9 plus
Bluegrass – 8 plus
Rockabilly – 5 plus
Blues – 40 plus – Learn essential blues rhythms at my post here
Rock – 180 plus
Classical – 20 plus
Metal – 40 plus
Country – 80 plus
Funk – 20 plus
Jazz – 10 plus
The actual selection of songs you can learn is undoubtedly a plethora of all different styles and genres.
From REM to The Beatles to AC/DC there are even classical pieces from the likes of Beethoven, Bach, and Tarrega.
You might find that some of the all-time greats are missing from the selection, but this is due to licensing laws that prohibit their inclusion.
Each song is broken down into a number of lessons which focus on different aspects of the song finishing with a full performance of the song.
Instructor Profiles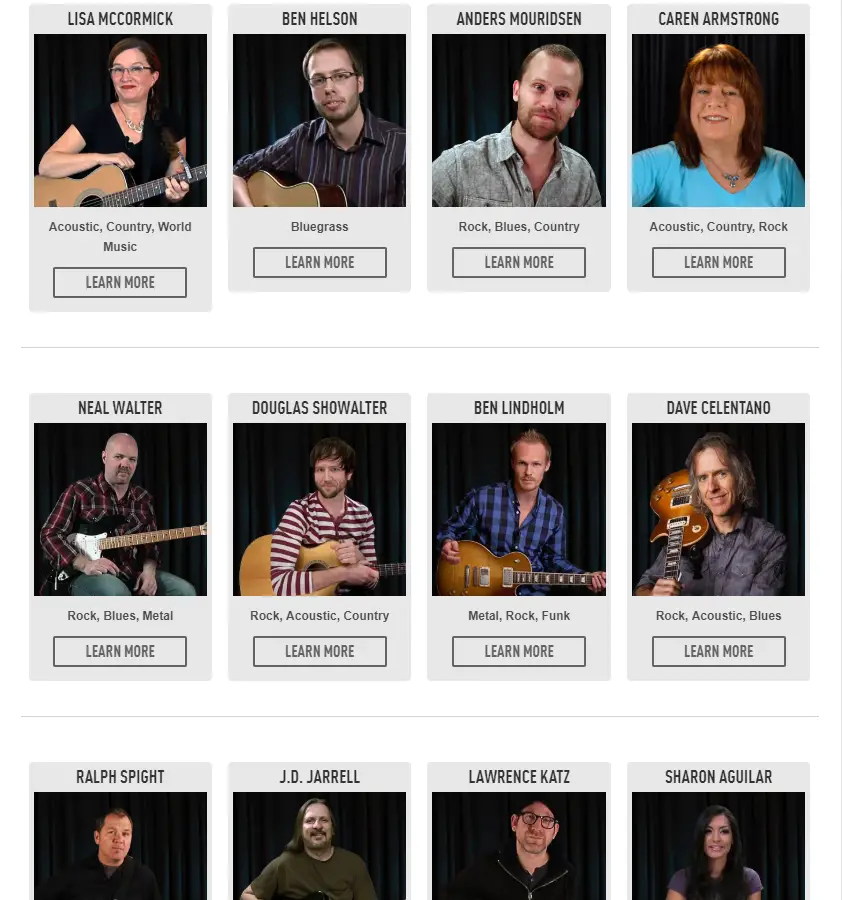 Guitar Tricks has an amazing array of instructors.
There are over 30 instructors listed on the site, and they vary in age, experience, and genre.
Many of the instructors on the site have either been formally musically educated at top schools such as MI Guitar Institute of Technology, or have played professionally with top musicians such as Taylor Swift and Pink.
You won't find instructors from mainstream bands.
What you will find though are instructors that are professionally competent in their playing ability and are excellent teachers.
After all, you are on Guitar Tricks to learn how to play the guitar better not just to copy your guitar idol.
Like in many teaching situations all instructors are different in their approach and style of teaching.
The instructors at GuitarTricks;
Genuinely enthusiastic about their subject matter
Confident and knowledgeable about the topic they are presenting.
Articulate speakers and easy to understand.
Friendly and approachable tone.
Although there is no facility to interact with an instructor during lessons directly, you can contact any instructor via the member's forum.
Each instructor has their own section where you can post questions and receives answers.
Online Coaching
Through Guitar Tricks you are able to access one-to-one coaching.
The sessions are flexible of either 30 minutes or 60-minute duration.
This can be an excellent service for you if you are struggling with any particular aspect or song.
You are able to buy one to one coaching sessions on an ad-hoc basis.
The Guitar Tricks Toolbox
The Guitar Tricks toolbox is made up of six apps.
Scale Finder
Jam Station
Metronome
Chord Finder
Reference Tuner
Fretboard Tuner
When you visit one of the apps, they open in a new window.
They have their own controls and allow you to point and click in order the use the functionality that comes with it.
Let's look at each one in turn;
The Scale Finder is basically a research tool to help you to familiarize yourself with the various scales.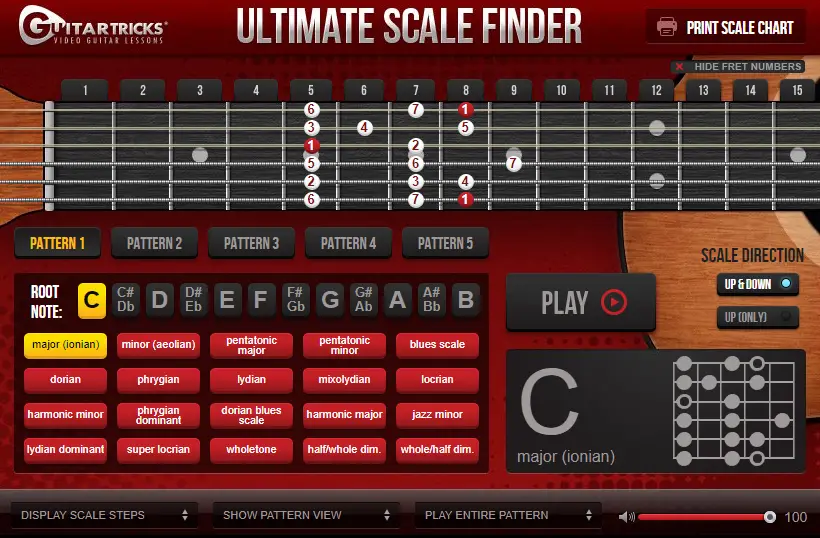 It allows you to look at the pattern and listen to the particular scales you have chosen.
The Chord Finder works on the same principals.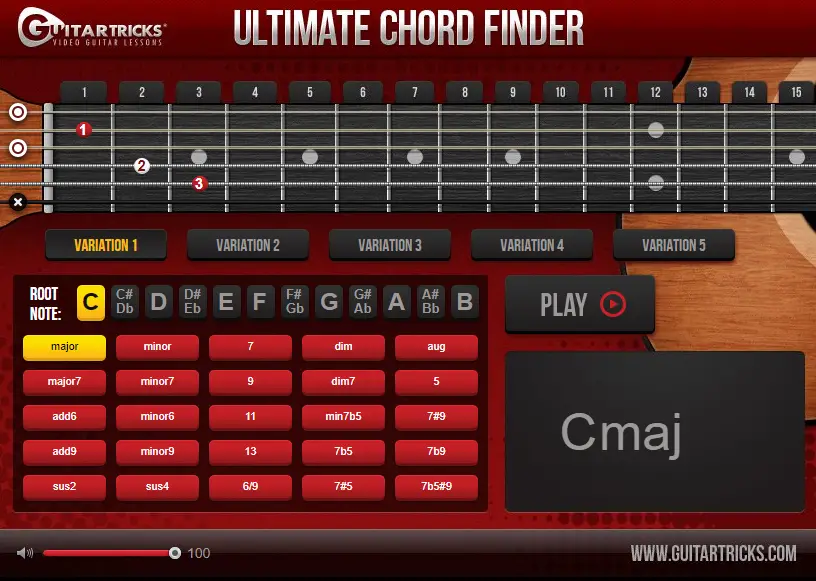 The Metronome is what you would expect from a physical metronome.
The Reference Tuner lets you select a tuning sequence using the most popular tuning sequences.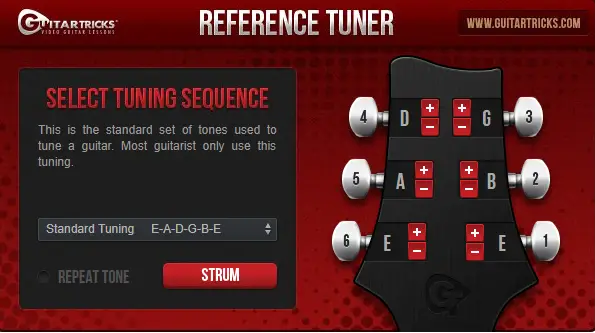 Opening up the Jam Station you will find an entire library of the Jam tracks.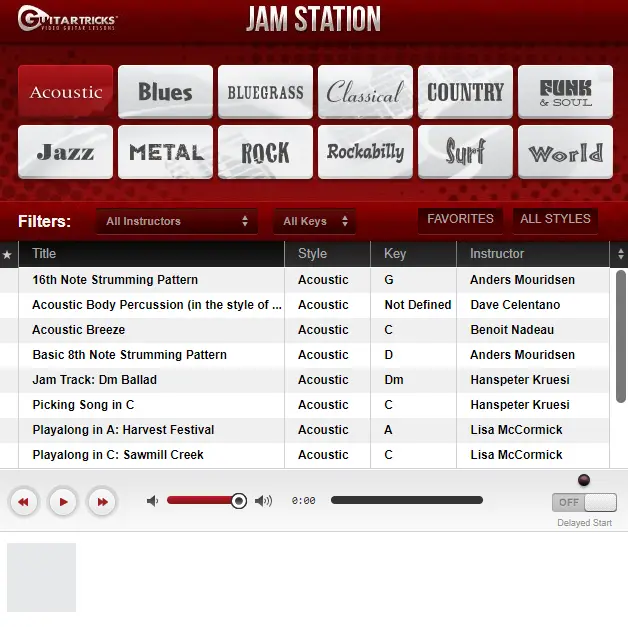 You can filter through all the styles on the site based on the different categories.
You can also sort by the key you want to play in, the instructor and the genre.
The final app is the Fret Board Trainer.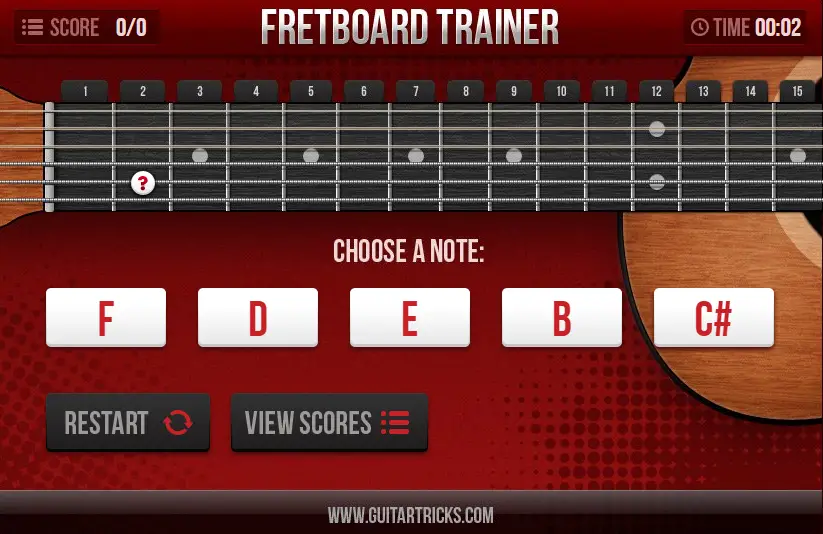 The Fretboard trainers start from a pretense that you already know something about fretboard notes and how they work.
It uses a fun quiz model to test your knowledge around fret notes.
Guitar Tricks Forum
Like any forum, there are two areas to access the 'Public' area and the 'Members Only' area.
The public area of the forum offers;
Open Discussion
Introduction Forum
Guitar Basics
Technique and Style
Music Theory
Songwriting
Recording
Listening Post
Tone & Effects
Gear Discussion
Gear Effects
Tech Talk
Famous Bands
The bulk of the private member's forum is made up of instructors own questions and answer sections.
Guitar Tricks Blog
The final section on the website is the blog.
This is divided into sections such as Announcements, Bands, Gear, etc.
The blog is kept updated very frequently, and there is always new content to be found in the section.
Guitar Tricks versus The Competition
The other main competition to Guitar Tricks for online guitar learning comes from Jamplay.
Although this is a Guitar Tricks review, if you are considering joining, it is worth spending a bit of time comparing it's nearest competitor.
If you are considering learning the guitar through online lessons, there are some features of Guitar Tricks that overshadow Jamplay.
The lessons you access on Guitar Tricks can be downloaded onto your computer so you can refer back to them. How neat is that?That means you don't always have to be online to learn.
We haven't mentioned price, but with Guitar Tricks, there is a free trial membership for 14 days. There is also a more extended refund period giving you more time to evaluate if it is right for you.
The quality of video lessons is comparable although, for the overall design, the volume of lessons, amount of songs and course structure, Guitar Tricks heads it over Jamplay.
Conclusion
If you are considering learning to play the guitar or to play the guitar better, then Guitar Tricks is the go-to resource and learning platform for you to achieve that.
Learning to play the acoustic or electric guitar through Guitar Tricks is a real option.
It provides a great learning platform at a much lower cost than that of getting a private tutor.
You can test drive Guitar Tricks free for 14 days here.
How Long Will It Take To Learn To Play The Guitar with Guitar Tricks?

One of the most asked questions, when anyone is learning a new skill, is how long it will take to learn something new.
Like anything, this will depend on many factors, and for guitar playing, there may be an array of reasons why someone wants to learn.
They may want to learn a specific song, specific chords or a blasting solo.
As a benchmark, it will take a minimum of 3 to 4 months of solid practice.
For practice, you want to aim for a minimum of 20 – 30 minutes a day, and don't feel guilty if you miss a day.
Don't get too over ambitious.
Set yourself some goals.
A set of SMART ( specific, measurable, attainable, relevant, time-phased) goals will help you keep a perspective and stay on track.
Heard the expression 'a bad workman blames his tools.'
Some people get hung up that they must have the right gear to learn to play effectively.
It's not the guitar that plays the player, it's the player who plays the guitar.
In the end, it all comes down to practice, practice, practice.
The three key things that will accelerate your guitar playing is, yes, of course, practice.
You will also need passion. A passion for playing is something that inspires you to pick the guitar up in the first place, try to maintain that passion.
The final key requirement is discipline.
Speak to any top performer in any realm, sporting or performance, to succeed and improve they needed discipline.
There will be times when you want to throw in the towel and forget guitar playing forever.
You will have days when you feel you are getting know where or moving forward.
Do not give up and do not stop.
You will get better the more you practice, try and play through the tough times.
The one thing about using a site like Guitar Tricks is that you are not alone.
You have a community of like-minded individuals who want to help you succeed with your guitar playing.
So if you hit a brick wall, use that community to help you get back on track.
Tips to Learning to Play The Guitar with Guitar Tricks

Learning any new skill takes time and effort.
The same goes for learning to play the guitar. It takes a period of learning and a period of practice to start to get to grips with chords, timing and learning music.
Focus your practice time:
You may have heard stories of guitarists that have learned the guitar with marathon 12-hour or daily three-hour practice sessions.
The fact is for most guitarists, a tight, focused 10 to 30 minutes of consistent daily practice will prove more efficient.
There is a difference in "practice" and "playing" time, and often the two get confused.
Practice should involve (after warming up) maintenance exercises to keep up your chords and emphasize your strengths, and focused work on specific goals.
Keep your focus on integrating new knowledge and technique.
The learning platform on Guitar Tricks is excellent at keeping the time spent on practice to an intelligent minimum, breaking up the topics to be addressed into small chunks, this helps avoid wasted effort and will leave time to play.
Guitar Playing Success Principle: Get out of your own way.
Many people that try and learn the guitar put barriers in the way.
Stop blaming your lack of progress on:
Your age
Size and shape of your fingers
Your natural talent
The amount of time you have to practice
…other irrelevant factors
Your age or finger length do NOT affect your guitar playing progress. Your beliefs, choices, and actions do.
Focus on your goals and do what is required to reach them. The way that the lessons are structured in Guitar Tricks will help you do this.
Guitar Playing Success Principle: Join a community of like-minded guitar players.
As soon as you join Guitar Tricks, you are joining a group of people who are all on the same journey you are.
Being around other serious musicians inspires and motivates you to reach your goals faster.
The Guitar Tricks community will help you, as its members are:
• Supportive and encouraging (to each other and to you)
• Committed to their own musical greatness and progress
• Knowledgeable about guitar playing and music
• Mature and respectful
Record Yourself:

When you have completed a lesson on Guitar Tricks why not record your progress. This can be an excellent motivator for you.
There is no better way to see your guitar playing objectively and to motivate yourself to work to become a better player than to record yourself.
There are now many affordable media for recording yourself on your own, and when you record, you can listen to yourself with fresh ears and hear the things you like and dislike about your playing.
You'll find it's infinitely easier to pinpoint your strengths and weaknesses and focus your practice accordingly.
By downloading the lessons, you can re-visit the areas you need to improve on.
Record yourself playing rhythm and then record other complimentary parts such as leads, melodies, counterpoints, and complimentary alternate rhythms, and you'll learn about composition, production and ensemble performance.
When you begin to focus on these complementary parts, you'll find that your vision and scope expands, as do your goals, and as you work to create complete songs, your abilities grow exponentially while you work to write and perform to the best of your ability.
Guitar Playing Success Principle: Find the best guitar instructor for you.
Guitar teachers are NOT created equal.
Every guitar instructor has different credentials, levels of experience.
All the instructors on Guitar Tricks have been specially selected because of their experience and teaching styles.
You want to study with instructors who have helped many students become great guitar players.
Expect and demand the best results from the investment of your time and money.
Develop your ear.

Ear training is just as important as learning to read music.
After all, music is a hearing art the only aural art.
As such, the ear acts as the intermediary between your musical ideas and the execution of these ideas.
A well-trained ear gives you the sensitivity and ability to play what you hear, and feel what you play, without having to rely on sheet music or tablature (which might come in handy with song requests for one.)
Dedicate a little time each day to growing your ear and watch how your playing blooms as a result.
To start training your ear, try playing simple songs by the way they sound.
Work them out note for note, chord for chord. Again, start simple before shooting for something more complex.
Developing "big ears" will help you recognize chords and melodies when you hear them, and will also help you improvise when need be.
Another trick is to play along with songs. This method will allow you to hear your mistakes clearly.
In time you will be able to learn to tune by ear as well for the sake of convenience when a tuning aid isn't available.
Tuning a guitar by ear also teaches you to hear intervals between strings and notes.
The Online Lessons

You might say we are bound to say this, but the most apparent and productive thing any guitarist can do to improve their playing is to take lessons.
While there is an ever-expanding universe of Internet resources, books, instructional videos, etc., available, nothing can compare to the one-on-one interaction with the expertise of a skilled guitar instructor.
That's why the Guitar Tricks method of learning is so popular.
Using an instructor will help you identify your strengths and weaknesses, sharpening your skills and eliminate your flaws.
An excellent instructor along with the resources on Guitar Tricks will also will help you save time in your development by helping you sift through all of the information out there and lead you on the right path toward quickly realizing your goals as a guitarist.
Guitar teachers get paid to make you better, and spending the money will make you take your study seriously.
Every story of a "self taught" guitarist still involves some part where they learned a lot from someone they knew who was more proficient and knowledgeable than them who helped shape their development.
Even the extremely educated and virtuosic Randy Rhoads (who was a guitar teacher himself) was known to seek out guitar teachers whenever he had available time while making history touring and recording with Ozzy Osbourne, so break out of your rut, accelerate the evolution of your playing to the next level and get some lessons!
Jam!

While it's incredible to have perfected that ripping 130th note shredfest in your bedroom or basement, perhaps the most important thing for a guitarist to do is to play along with or to some sort of accompaniment.
Obviously, playing with another live musician or group of musicians in the same room is the perfect situation (And you should put yourself in those situations as often as possible), but there are many alternatives that can be just as beneficial.
Today we have countless options, such as virtual backing bands and tracks through the Internet, computer programs such as EZ Drummer (highly recommended for its ease of use and versatility) or Garageband loops, plus apps on our phones that can act as stable backdrops against which we can hone our performance skills.
However, by using Guitar Tricks, you have your own built-in Jam app which you can play along within the various styles or genres.
Playing with an accompaniment such as this will significantly improve your consistency, your endurance, your improvisational ability and your feel for locking into a groove.
Learn music theory.

What happens to a triad if the fifth changes? The fifth found in both the major and minor triad is called a perfect fifth.
There are three-and-a-half steps (seven frets) between the root and a perfect fifth.
If you take an A-major triad and raise the fifth a half step to E#, you have the interval (A to E#) of an augmented fifth, and the resulting chord A, C#, E# is called A augmented.
Raise the high string one fret in a three-note A chord to hear what it sounds like. If this reads like a foreign language to you, point made!
How many times have you flipped through a songbook and been baffled by something peculiar like A7b13#9?
It may seem like these names are more algebraic equations than chords, something invented to confuse you deliberately, but in fact they're trying to tell you very specific things about what to play.
Music theory is designed to help you should you suddenly find yourself being asked to play a I IV V in the key of G. You will know what that means and will know how to play it. And you'll look like a genius in the eyes of the uninitiated.
In Guitar Tricks, there are 33 tutorials to work through on your journey to learn musical theory.
Learn music theory. You should be knowledgeable about your craft.
You wouldn't drive without being able to interpret road signs and traffic lights, so why play guitar blindly?
Even a rudimentary understanding of how music works can help take your playing to another level.
The theory allows you to know what you're doing, and most importantly, why.
Alongside the tutorials in Guitar Tricks why not invest in a book on guitar theory and do your homework.
Once you start learning the basics, a light will go on in your head.
Warning: You may develop a voracious appetite to know more and more and even more still.
Learn the notes on your Fret-board.

One of the most natural things to master on the guitar is learning what notes are on what frets on which strings.
Learn the notes on the Fretboard with the Guitar Tricks Fretboard app.
Strangely enough, while learning the notes on your Fretboard may be one of the simplest things to master, it's sometimes little more than an afterthought to many guitarists.
Some never learn them at all due in part to a reliance on tablature.
If your aim is just to dabble in guitar for your own amusement, then you can probably get by with winging it.
But if you want to be a guitarist of any merit, knowing your notes is as important as knowing the alphabet when you're learning to read. It gives you the power to construct chords, scales, and melodies with a much deeper understanding.
You begin seeing the Fretboard in a completely different light. Patterns and scales will jump out at you.
Chords will form before your eyes. You will be able to look at the Fretboard and play what's in your head.
While it may be true that in the flow of the moment a musician is not thinking about scales or notes but dreaming the music and playing what he hears in his head and heart, knowing the fretboard cold is an excellent resource for your development.
Types and models.

My point is that everybody's either a Jazz II player, a Jazz III player, or a Tortex player, generalizing of course, but that's definitely what the majority of people are using, in my humble yet vast experience.
I mean, everyone is a unique player, but for all of us individual players to be using the same seemingly innocuous, but the vastly important thing is crazy to me.
Hand position

You know your hand moves, right?
You know it's not some sort of immovable, Sword in the Stone (second nerd fantasy reference. Score.) type of thing, glued down for all of the entirety, yeah?
Don't get into bad habits from the off.
Guitar Tricks step by step lessons will teach you the right way to handle your hands in the right direction.
Your hand and subsequent pick position have massive effects on the sound of your playing.
Play a chord and just move your pick from the bridge to the neck position of your pickups, slowly so as to hear the difference between the two and all of the variations between.
Learn all of the inversions of every chord everywhere
Learning all of your chords all over the neck will make you utterly invaluable as a sideman and composer and will land you every single gig you can think of.
Stand when you practice.

I mean, really, this one is obvious.
Not every guitar player sits down when playing? No.
When practicing don't always sit, get the position that is comfortable for the style of playing you are trying to achieve.Sometimes you might want to stand up and practice like a professional.
There you have it, a complete Guitar Tricks review as well as some helpful tips to that you can implement along the way!
Disclosure: We are a professional review site that receives compensation from the companies whose products we review